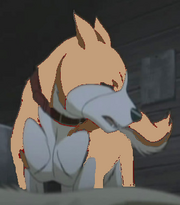 Suki is one of Shiro's and Yamabuki's pups. In reality, Riki's siblings had no names, but in K.A.Y, this is how they appear. Suki is Riki's sister. She was chosen by a family who wanted a gentle family pet, but Suki was naturally a bearhound, so she ran away and found Hidetoshi's brother, who trained her. A few years later, Suki heard about the battle to defeat Akakabuto and that it was lead by her brother. She immidiately wanted to visit him, but when she arrived in Ohu, all she could find, was Gin's army, carrying Riki's dead body into the Gajou. Suki joined the ceremony and cried through the whole thing. That night she stood outside, crying and howling for the memory of her younger brother, who, in the eyes of the villagers, had been absolutely nothing but a mistake. Suki is still alive in KAY, and she is part of Joe's army. She meets Kaitlin, when they find Suki's brother, Jisoku, killed.
Ad blocker interference detected!
Wikia is a free-to-use site that makes money from advertising. We have a modified experience for viewers using ad blockers

Wikia is not accessible if you've made further modifications. Remove the custom ad blocker rule(s) and the page will load as expected.