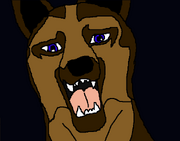 Luke is one of the gateguards of Ohu. He is John's nephew and Bullet's best friend. He was guarding Ohu with Bullet when a Dark Wolf under the command of Torakashi attacked and killed Bullet. Luke faced the wolf but when he attacked, the wolf crushed his shoulder and he wasn't able to fight. Luckily his other friends managed to arrive there on time and they helped him to safety. He later joined forces with Kaitlin and managed to get his revenge. It is unknown, but Luke might be a brother of Andy. Since in K.A.Y John had 2 brothers, we are unsure whose son Luke really was.
Ad blocker interference detected!
Wikia is a free-to-use site that makes money from advertising. We have a modified experience for viewers using ad blockers

Wikia is not accessible if you've made further modifications. Remove the custom ad blocker rule(s) and the page will load as expected.