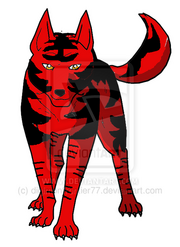 Kajitora is the recarnation of Akatora.
Kajitora

Breed

Kai Ken

Affiliation

Ohu

Status

Alive

Family or owners

Akatora(old self)

Minazuki (Mate); Jane, Alary, Neira, Tiana, Kazetora (Step Children);  Kyrina (Daughter) Suruki (Son-in-Law)

Amy, Himiko, Oki, 5 unnamed pups(Grandchildren);

Chutora, Kurotora(Brothers), Uzuki, Hazuki, Kisaragi, Bill, Hakuro (Brothers-in-Law); Tony, Kagetora, Harutora, Nobutora, Bill and Chutora's pups (Nefews)
The reincarnation of Akatora who retains memories of his past life as a Kai brother. He has dreams of being in the Ohu army and then dying. When he is 6 months old, he sets out on his own to discover who he is. When he meets back up with Chutora and Kurotora, he says he is their brother but they don't recognize him at first. After explaining a bit, they cry tears of joy. Minazuki is overjoyed with his return.
Ad blocker interference detected!
Wikia is a free-to-use site that makes money from advertising. We have a modified experience for viewers using ad blockers

Wikia is not accessible if you've made further modifications. Remove the custom ad blocker rule(s) and the page will load as expected.