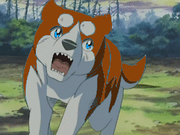 Kaitlin is the daughter of Yukimura and Alicia. She is Yamabuki's and Shiro's great great great granddaughter, Riki's and Fuji's great great granddaughter, Hiyan's and Giyan's great niece, Gin 's and Sakura's granddaughter, Joe 's and Weed 's niece, Hermione's, Leo's and Millie's sister, Orion's, Sirius', Rigel's and Bellatrix's cousin and Iain's mate. She also has 7 puppies: Belka, Strelka, Kazan, Zasha, Bolt, Caesar and Arion. She is also a commander of Ohu. She is the main character of K.A.Y and she's also the main character of 2 films Flower il delta and ginga flowerlika tawashi
Ad blocker interference detected!
Wikia is a free-to-use site that makes money from advertising. We have a modified experience for viewers using ad blockers

Wikia is not accessible if you've made further modifications. Remove the custom ad blocker rule(s) and the page will load as expected.