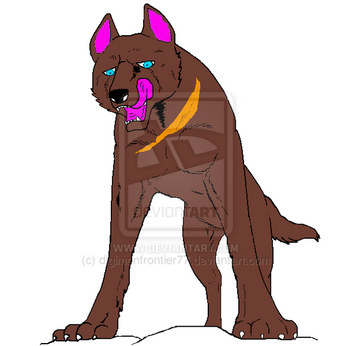 Jane is Daugther of
Minazuki
and
Akatora
 and the sister of Alary, Neira, Tiana, 
Kazetora
,
Sara
.
Jane is traveling to become an Ohu soldier when she bumps into Giyan.
She is the only one who doesn't take after either parent's appearance in looks, her body a whole brown color. She is the middle sister out of the five girls and leaves to go become a fighting dog after the third arc of GOJ. She is never heard from again.
Jane

Breed

Kai Ken/Siberian Husky mix

Affiliation

Ohu

Status

Alive

Family or owners

Akatora, Minazuki (parents);  Alary, Neira,Tiana,Sara,Kazetora (biological siblings); Kyrina (half-sibling); Kajitora (Step-father); Amy, Himiko, Oki, Edna, Edwina, Edelle, Edward, Ozzy (Nephews/Nieces); Pyrotora (Nephew) Suruki (Brother-in-law) Chutora , Kurotora , Uzuki , Hazuki , Kisaragi , Bill , Hakuro (Uncles); Tony, Kagetora, Harutora, Nobutora, Bill and Chutora's pups (Cousins)

Kai,Tim (Sons)
Ad blocker interference detected!
Wikia is a free-to-use site that makes money from advertising. We have a modified experience for viewers using ad blockers

Wikia is not accessible if you've made further modifications. Remove the custom ad blocker rule(s) and the page will load as expected.