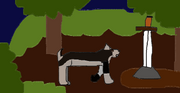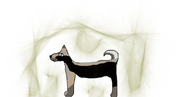 During the war against Sniper, Smoke gave birth to James's pups: Liara, Kana, Rikun, and Ryo. Given their names by Smoke and Kushi, the four pups grew up with their friends in the safety of a freed Ohu paradise. However, this peace was not to last as Tegan kidnapped Minazuki, Gin and his children to an unknown location.
Eventually, James took Liara and her siblings to see the castle along with Smoke. They soon found out how to send Gin and the two newborn pups-Weed (Son of John and Gin) and Kyrina (Daughter of Kajitora and Minazuki). Liara is not seen again until the third arc when her mother is kidnapped. She is forced to stay at home without her parents until they come back home...without Kushi and a strange dog named Takeshi by their side. Liara and her siblings come to love Mheetu and Uru.
GOJL arc 1
Liara is first seen bringing a large fish to Kovu and Aru's son Nakari. The three have become close and rumors say that they are lovers. When the three adventure out in the middle of the night to go see the human town, they find themselves kidnapped by a human named Sean. Mheetu sees them being kidnapped and rushes to go warn his father and mother. Soon a small crew is assembled and they head out to Bath, England on a plane. Yukina's crew follows shortly afterward.
Liara, Kovu, and Nakari are next seen in Sean's home being fed. They of course are wary of him and stay away. Over the course of a few days, they find out Liara is pregnant with both Nakari and Kovu's pups. And what's worse, some leftover minions of Kurojaki are out for blood, just outside the town.