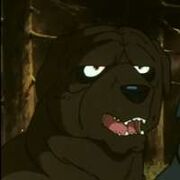 No Title

No Title

No information
Jaguar

Breed

Mastiff

Affiliation

Moss's Pack, Ohu

First appearance

GNG vol 4, GNG ep 10, GDW vol 18

Status

Alive

Family or owners

Moss (father)
Jaguar

Breed

mastiff

Affiliation

Moss's Pack, Ohu

First appearance

GNG vol 4, GNG ep 10, GDW vol 18

Status

Alive

Family or owners

Moss (father)
Jaguar

Breed

Mastiff

Affiliation

Moss's Pack, Ohu

First appearance

GNG vol 4, GNG ep 10, GDW vol 18

Status

Alive

Family or owners

Moss (father)
Jaguar is the son of Moss who was nearly killed by
Sniper
early on in GNG. He was taken care of by
Great
and his father's pack engaged in a fight with Ben's pack. After the fight ended, he and his father joined Ben's pack in search of more males.
He is later seen stuck in a pitfall with his father's pack, having been tricked by Kisaragi's gang. He, along with his father, refuse to join and stay in the pit as the heat grows.
Jaguar only becomes a background character for some time.
Prequle to GOJ/GNY
Jaguar

Breed

Mastiff

Affiliation

Moss's Pack,mitsu

Status

Alive

Family or owners

Moss (father),kisaragi,akame,uzuki,great,minazuki,akatora(brothers in law)

mate

Hazuki
Ginga Ocean james/Ginga Nagareboshi Yukina