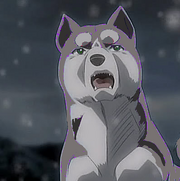 Hisan is one of Shiro's and Yamabuki's pups. He is Riki's brother. He was taken by a little boy who had always wanted a pet dog. Later on the boy moved away and he had to give Hisan away. He gave him to a man who trained hunting dogs and so Hisan became another bearhound. He would travel the world with his new owner but he eventually returned to Japan, hoping that he would meet his siblings and parents. Unfortunately, Shiro had died and Yamabuki was somewhere far away, Hisan couldn't meet his parents. He managed to catch up with Kichi, who later told him that Riki had also died. Hisan is also alive in KAY and he is part of Gin's army.
Ad blocker interference detected!
Wikia is a free-to-use site that makes money from advertising. We have a modified experience for viewers using ad blockers

Wikia is not accessible if you've made further modifications. Remove the custom ad blocker rule(s) and the page will load as expected.