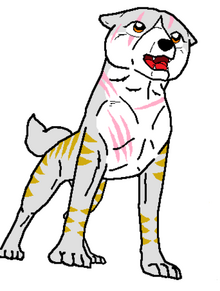 Ginga Densetsu Kintora is a currently ongoing fanfiction (and Youtube series) about KIntora, the daughter of Weed.
Plot Summary
Edit
Two years after Hougen's death, Weed and his mate, a Kai Ken named Heizu, celebrate the birth of their new puppies: Gurē, Sunatora, and Kintora. However, everyone's surprised when they find out that Kintora is no regular tora-ge, but instead has golden stripes that glow in the sunlight. Because of this, she's sheltered in hopes of keeping her safe from the eyes of the humans, creating an egotistical and entitled brat in the process. One night, Kintora sneaks off with her older brother, and comes across a human camp, where a man named Hajime spots her. She's captured, and brought to America, and what follows is an amazing journey of epic proportions as Kintora learns to be a real Dog, make new friends, and fight cruel enemies. But she'll also find out that there's more to her than just the granddaughter of the Silver Fang Legend. However...not all is calm in Ohu. While Kintora completes her journey, a new threat emerges from the shadows...
GDK Related Videos (Click the Links)
Edit
Link to Fanfiction (DeviantArt)
Edit
Prologue: http://fav.me/daby7ov
Chapter 1: http://fav.me/dabyymu
Chapter 2: http://fav.me/dabyz0k
Chapter 3: http://fav.me/dabyzbp
Chapter 4: http://fav.me/dabyzwo
Chapter 5: http://fav.me/dabz180
Chapter 6: http://fav.me/dabz1yf
Chapter 7: http://fav.me/dabz2cp
Chapter 8: http://fav.me/dabzbdk
Chapter 9: http://fav.me/dagrhns
Chapter 10:TBA
Ad blocker interference detected!
Wikia is a free-to-use site that makes money from advertising. We have a modified experience for viewers using ad blockers

Wikia is not accessible if you've made further modifications. Remove the custom ad blocker rule(s) and the page will load as expected.