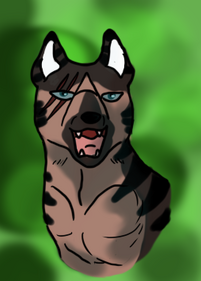 Choko is the only son of Chutora and Trisha, but was seperated at an early age and was kidnapped by wolves. He lived in the caves even after the wolves died, fearful of them returning. He soon adopted Basaki, Rujina, Buko, and Buju and raised them as his daughters. Eventually, he met Liara and helped her defeat Toru and her king.
He followed them outside and now lives in Ohu with his birth father, Chutora and stepfather Bill.
Father: Chutora (Middle Tiger), brother of Akatora and Chutora, mother of Wendy, Maria and Arian
Mother: Trisha, sister of Gina, Harmonia and John. Mother to Choko, Dai, and Churin. Presumed Deceased.
Half-siblings: Arian, Wendy, Maria
Uncles: Akatora, Kurotora, Sam, hakuro, minazuki
Cousins: Sara and her siblings, Rukai and his siblings.
Adopted daughters: Basaki, Duko, Buju, and Rujina
Personality: Huge paternal intsinct, loving to pups of any age, hates most cats except for Syra and Bumble
Age: He was born when Chutora was a year old, so Choko is about 5 at the start of GOJ and is currently 7 years old.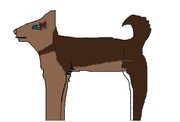 Ad blocker interference detected!
Wikia is a free-to-use site that makes money from advertising. We have a modified experience for viewers using ad blockers

Wikia is not accessible if you've made further modifications. Remove the custom ad blocker rule(s) and the page will load as expected.