Axel
is an original character made by GinandWeedo. He's the son of
Sniper
and
Gin
.
GDW:AU (bart12345's version)
Edit
Axel

Breed

Doberman x Akita Inu mix

Affiliation

Ohu Army

Status

A month old

Family or owners

Shiro, Yamabuki (great-grandparents, uncle and aunt); Riki, Fuji (grandparents); Sniper, Gin (biological parents); "Giyan", "Hiyan" (uncles); Weed, Joe, Yukimura, John Jr., Gin Jr., Belle, Tin Tin, Mike (half-siblings)

Mate(s)

No information
Axel is very timid, despite who his father is, and loves his mother dearly. He is very caring for his half siblings and his adopted father John. He can be aggressive when angered - for an example, when he found out what his biological father,sniper,had done to his mother, he was furious.
His mother Gin told his children about his existence soon after he was reunited with his family.
His red collar was given to him by Daisuke when he was four months old.
Axel loves his mother very much, but it takes Gin a month for him to love Axel after he is born.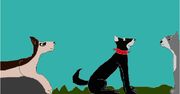 Ad blocker interference detected!
Wikia is a free-to-use site that makes money from advertising. We have a modified experience for viewers using ad blockers

Wikia is not accessible if you've made further modifications. Remove the custom ad blocker rule(s) and the page will load as expected.