Akira

breed

Greyhound mix

First appearance

GDW:AW Ch.42

Family or owners

Kite (father)
Akira is Kite's daughter originally created by Gingalover for Digimonfrontier77
GDW:AW (by Digimonfrontier77)
Edit
Akira is the only daughter of Kite and his mate and is very sheltered as a result. When her mother dies, Kite takes her to join Lucy's pack for protection. Sadly, Kite is brutally mistaken for his choice to join the Mastiff's pack, as Akira is put through brutal training.
Years later, Kite has gone off on a mission abroad, leaving Akira alone with the coldhearted Mastiff female. She, along with her friends Hitomi and Bianca, are told by Lucy to sneak into Weed's pack and mate with the three brothers, becoming pregnant and making them vulnerable to attack if their pups are held hostage. Hitomi is chosen to go for Joe, Bianca is picked for Yukimura, leaving Akira to go for Weed. The female doesn't like this, but is forced to join anyway. When her friend Hitomi is pregnant, Bianca tries to do the same, raping Yukimura and is evenutally killed by Gin as payback. Akira still hasn't followed Lucy's orders, but when Hitomi is going to Gin's old home, she feels Lucy and Firestar will kill her for betraying them. She knew all along that Hitomi never truly served anyone for long, leaving soon after she no longer needs them.
Her friend is truly selfish, but she cares for Akira even though she bullies her.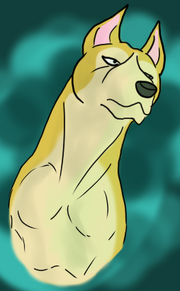 Ad blocker interference detected!
Wikia is a free-to-use site that makes money from advertising. We have a modified experience for viewers using ad blockers

Wikia is not accessible if you've made further modifications. Remove the custom ad blocker rule(s) and the page will load as expected.