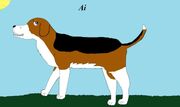 Ai is a pure breed beagle her name means love, she used to live in Deleware with a loving family back then her name was called Sydney she changed it when curriousity got the best of her, she sneaked on a ship, looking for a snack she the ship sailed the ocean blue, sadly it was too late for Ai, she couldn't jump off the ship to swim back ashore so she waited and waited for a very long time its a miracle she survived, she eneded up in Japan, she was then a stray she hated being a stray she wished she could be back home, she has not got back home yet, and she still does not expect two.
Ad blocker interference detected!
Wikia is a free-to-use site that makes money from advertising. We have a modified experience for viewers using ad blockers

Wikia is not accessible if you've made further modifications. Remove the custom ad blocker rule(s) and the page will load as expected.